Petite Goldendoodles
Petite Goldendoodles
Are a 3 way mix (more like the Austrailian Golden and or Labradoodle) "petite" is not refering to a size but rather a "type" of doodle that is being bred. ALMOST ALL OF OUR DOGS HAVE BEEN BRED LIKE THIS FOR YEARS SO IF YOU KNOW ONE OF OUR PUPPIES, and what comes to mind is miniature goldendoodle due to size, THIS IS THE WAY IT WAS LIKELY CREATED! IF YOU LOVE IT......THEN YOU WILL MOST LIKELY LOVE ANY AND ALL OF OUR LITTERS. ALL OF OUR FEMALES ARE AWESOME AND OUR MALE THROWS AWESOME TEMPERAMENTS ON PRETTY MUCH ANYTHING HE BREEDS. PEANUT WAS HAND PICKED TO REPLACE HIS SIRE SKIP WHO was with us from the time he was 6 mos old until he passed at about 14 years old. WE HAVE HAD MANY YEARS UNDER OUR BELT OF BREEDING AWESOME PETITE GOLDENDOODLES! We don't call them miniature goldendoodles only because of the way that they are bred. They will totally look and act just like a miniature goldendoodle. However....technically they are petite goldendoodles.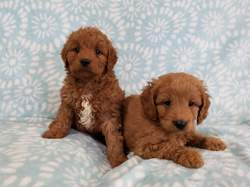 Cherry has a couple of males (sired by Mr. Smooth mini poodle) available that were born 5/26. If you want to get on her list, you may submit your $100 deposit. I work a full time job and am gone 14 hours a day. I don't have time to send out a bunch of pictures or answer a ton of questions. All pups have had 1-2 parvo shots and have been dewormed twice before leaving at 8 weeks. If you want a guarantee, you WILL need to order the food from this site. ALL pups require a spay/neuter contract. Cherry puppies are likely to mature 10-25 lbs with a 14-20 lb average. $1500 each.
We do have a couple of other litters in the works but we currently have mostly males. If you are not picky and require tons of service, we are willing to accept deposits on other litters as well if you would like to get on those. Limited info will be available until all pups are at least 2 weeks of age.
Meg has a litter of F1-b pups...all males currently available...will post a birthdate soon.( those are younger than Cherrys) $1500