Miniature Lab Puppies
We have been doing mini labs on a very small scale for many years now. We have a site that we sell online and ship all over but we are adding the mini labs to this site for local, discounted prices.
If you are wondering what a miniature lab is or how it is made please Click Here....
Miniature labs are used to create our "Petite" Labradoodles.
We have a current litter of miniature labrador retrievers pictured below:
$400 for the males
$500 for females
$50 non refundable deposit to hold your puppy until weaning.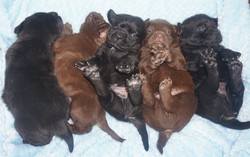 THe lighting is bad so many of the blacks are looking dark choc. in the pics