Aussiedoodles
We had a litter of Mini / Toy Aussiedoodles from Bubbles and Riley Oct, 10, 2019
Please see the correct contact info for the litters you are interested in and contact the person listed for that particular litter.
Mini Aussiedoodles are $400-$800 depending on color, size and gender.
Shoot me an email @ petitegoldendoodles@gmail.com after litters are open and ready to go.
PLEASE SEE OUR "START HERE" PAGE to get some of your questions answered.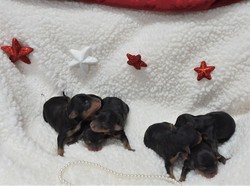 Bubbles X Riley litter above $600
See Lexi and Cola Mini aussiedoodle video by clicking HERE
Cleo below: Toy Aussiedoodle adult.....NOT FOR SALE