Aussiedoodles
We will have aussiedoodles here and there.
Please see the correct contact info for the litters you are interested in and contact the person listed for that particular litter.
Mini Aussiedoodles are $500-$800 depending on color, size and gender.
Shoot me an email petitegoldendoodles@gmail.com
PLEASE SEE OUR "START HERE" PAGE to get some of your questions answered.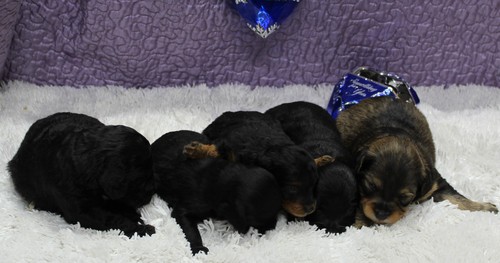 Lexi had her puppies on 12/31/18 Blk Male (far left) $500 Blk F $550 Tiny tri F $650 Fawn colored F $600 Accepting $100 deposits now.
See Lexi and Cola Mini aussiedoodle video by clicking HERE
Cola had her litter by Peanut on 1/5/19 Many blue merle pups! Will likely mature 15-25 lbs. Merles $800 for females $700 for males. Blacks $500 for males, $550 for females. Tris $550 for males, $600 for females. Pic to be added soon. Accepting $100 deposits now.
Females directly below: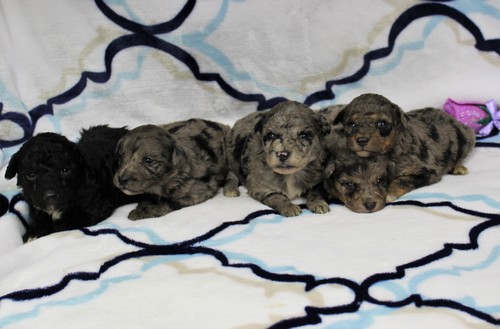 Colas males directly below: